Invitation: Social media use, and medication adherence trackers - Fireside chat 02 - April 9th at 12 PM
It is with great pleasure that we invite you to this third Fireside chat interview segment of the TherAppX Community. It will take place on April 9th, 2021 at 12:00 pm directly in the Community, with the option to ask your questions as you go!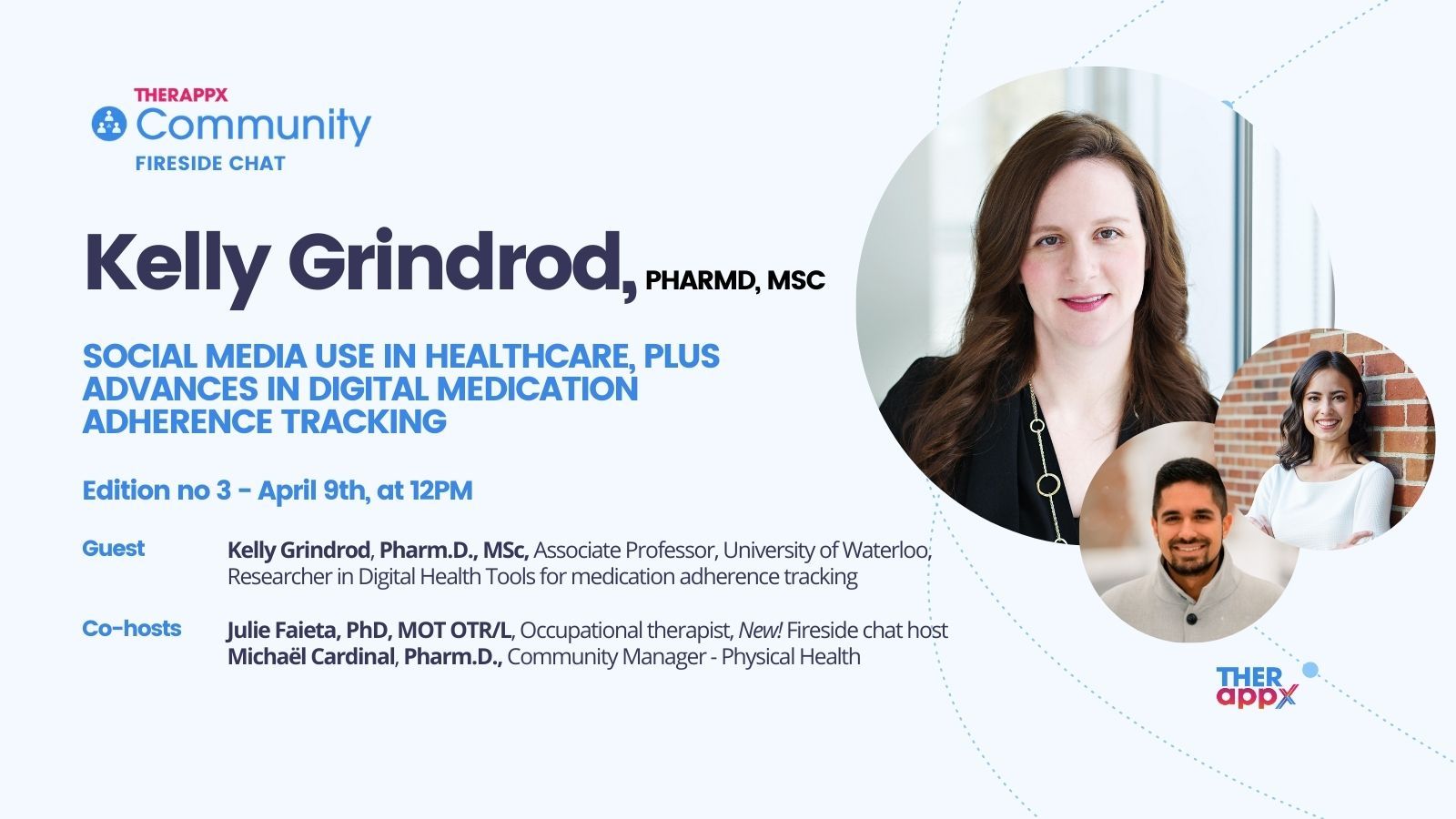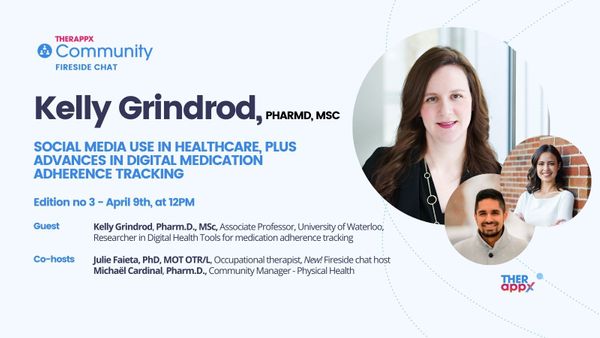 Here's what our next event will look like:
Topic: Social media use in healthcare and digital medication adherence tracking: here are two distinct topics that will be discussed during our third Fireside Chat session, accessible for our Community members! What do these two topics have in common? They're both fields of expertise of our guest renowned guest: Kelly Grindrod, a researcher in social media use by healthcare practitioners as well as in technologies for medication adherence.
Date and time: April 9th, 2021 from 12 PM to 12:45 PM
Our guest:
Kelly Grindrod, PharmD, MSc, is a pharamcist and Associate Professor at University of Waterloo. She was named pharmacist of the year in 2020 by the Canadian Pharmacists Association. She will enlighten us on the most recent advances in her field of expertise:
Topics:
What is Pharmacy5in5?
What is the impact of social media on healthcare practitioners?
What are the benefits of Digital Health Tools for medication adherence tracking?
What should the community know about such tools?
Our hosts:
Julie Faieta, PhD, MOT OTR/L, occupational therapist and post-doctoral researcher at Université Laval in Digital Health Tools analysis
Michael Cardinal, pharmacist, Community Manager for TherAppX
Where? The first 15 minutes will be presented LIVE on Facebook. The full session will be accessible on the TherAppX Community, at the following link: https://community.therappx.com. Subscribe today for just $ 4.15 per month. Members can also ask questions before and during the event.
About the Fireside chat sessions: TherAppX is an innovative digital health company. Its mission to democratize knowledge on Digital Health Tools. The TherAppX Community was created with the objective to complete our Digital Health Tools library and accelerate the integration of digital health into your daily practice in evidence based ways. Our Fireside chat sessions provide you with a unique opportunity to learn about trends in digital health with the most innovative colleagues in Canada. Learn more on our website: https://therappx.com/en/community