Health software: Looking for a needle in a haystack? Not anymore with ISO82304-2
TherAppX is proud to announce that it adopts the newly published ISO82304-2 technical specification, aiming to establish a worldwide & standardized approach to health software validation.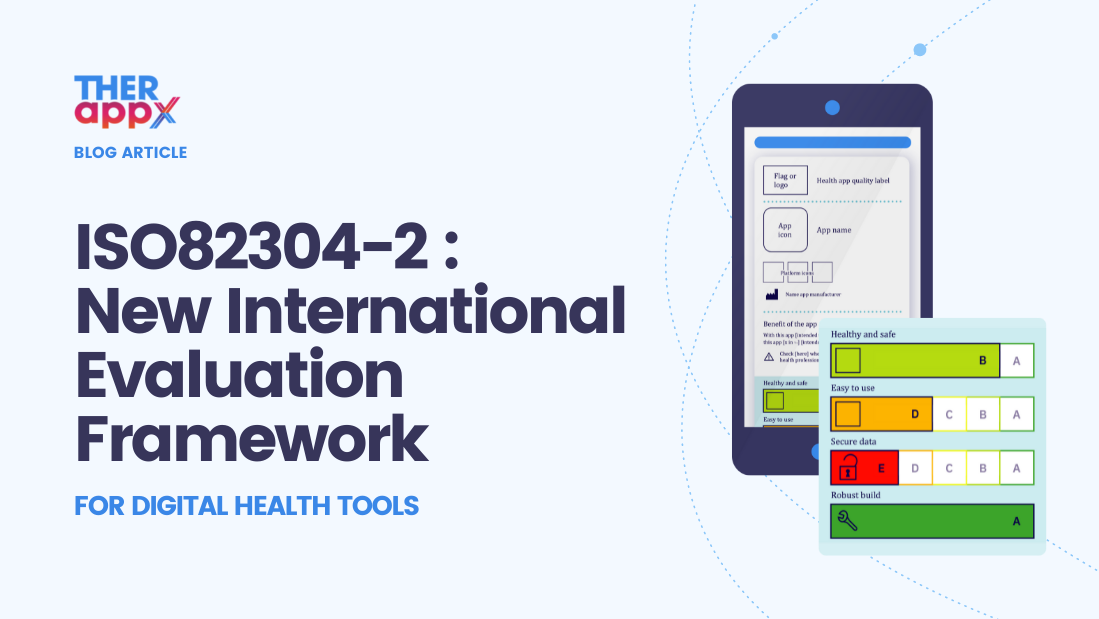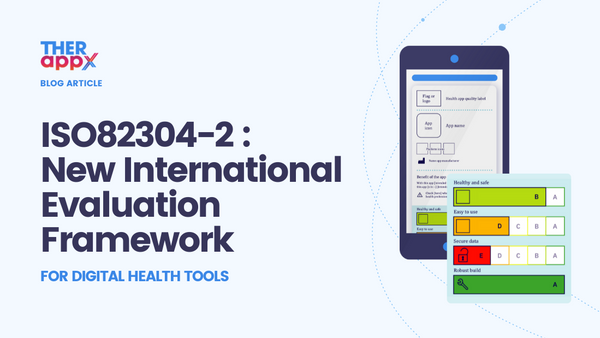 Imagine this scenario. You are a patient and you find an app on the App Store or Google Play that says it can fulfill your health needs for a specific condition. When discussing it with your healthcare provider, you both look online but can't find any direct quality assurance on if this app will live up to its promise. Your provider searches a bit more to see if the app is approved by the FDA, Health Canada, or the European Commission but can't find such information either.
This situation happens every single day in healthcare settings, as 43% of patients use health apps on their phones and are looking for information about those both online and during encounters with their care team.
From now on, there is a solution for patients and their care team in the form of ISO-82304-2, the new international standard on which one can base their decision when selecting a health app.
ISO82304-2: new guidance for health app quality
More than 40 health app review processes have emerged in the world in the past five years, including uMARS, APPLICATION, XCERTIA, and TherAppX Review. All those review processes shared some similarities but were also quite different in certain aspects. The previous absence of a universally accepted framework posed significant challenges for health care decision-makers and patients alike.
ISO82304-2 technical specification was created to change this, as it provides clear requirements for developing high-quality health apps. The specification includes a set of 67 quality criteria to cover the whole app project's life cycle throughout its development.
In other words, it guides manufacturers on what good health software should be from the International Standard Organization (ISO)'s standpoint.
Inspired by the EU energy label
When a health app manufacturer completes an ISO-82304-2 assessment, it is served with an easy-to-understand Quality Label (see Figure 1). This label is inspired by previous initiatives, such as the EU energy label used in more than 50 countries outside Europe, the Nutriscore, and the FDA over-the-counter medicine label.

Figure 1. Health App Quality Label by ISO
The goal of ISO is to deliver quality labels for as many health apps as possible, for patients and health care decision-makers to be able to know which apps they should pick.
Developed the ISO's way: valid, solid, consensual
ISO's lead expert, Petra Hoogendoorn, has reunited major stakeholders for proper field expert input to determine each requested quality requirement and scoring method. After multiple iterations, the published technical specification follows a Delphi consensus study involving 90 experts from 6 continents, including national health bodies. Surveys, interviews, and a review of existing standards from health app assessment organizations completed the input.
As for the health quality label, think-aloud testings were completed with people with low health literacy in the Netherlands and subsequently, Egypt and Mexico to ensure adequate understanding of the label in different contexts.
TherAppX now provides ISO-82304-2 quality labels
Built on top of its experience as a rigorous health technology assessment organization, TherAppX is proud to announce that it adopted ISO-82304-2 as an additional health apps review process.
Starting today, both health care decision-makers and health app manufacturers can reach our team to order quality labels for specific health apps available in Canada and abroad.
Earlier this fall, TherAppX started its work with 3 major app manufacturers which will be the first organizations to benefit from the deliverance of a quality label. This process will have a profound effect in helping them demonstrate the trustworthiness of their app to decision-makers (patients, payors, providers, etc.).
If you're also interested in joining the first cohort of app manufacturers to be ISO'ed, please fill out this form or contact us directly at support@therappx.com.
You can also contact us if you are a health care decision-maker looking for a way to assess the quality of an app that was offered to your organization.
Guidance for all, from patients to payors
Health software such as health apps is not a general consumer-based product. On top of sharing sensitive information to vendors, the healthcare interventions included in health software need to be validated and evidence-based.
In such, we expect the technical specification to accelerate private and public plan coverage of solutions. It will provide proper guidance on which vendors should be evaluated by agencies responsible for analyzing the economic benefits of publicly-covered Digital Health solutions, such as CADTH in Canada and INESSS in Quebec, and Pharmacy & Therapeutics committees of private payors. Health Canada does not regulate 99% of Digital Health Tools and unregulated software can be as efficient as regulated software as pointed out by our CEO in this blog article. The only thing proper tools lack is trust in their good quality. Here's one last more reason why the new ISO assessment is a game-changer.