What opportunities does interoperability offer for your clinical practice
Very interesting fireside chat segment about interoperability in digital health with Frédéric Laroche.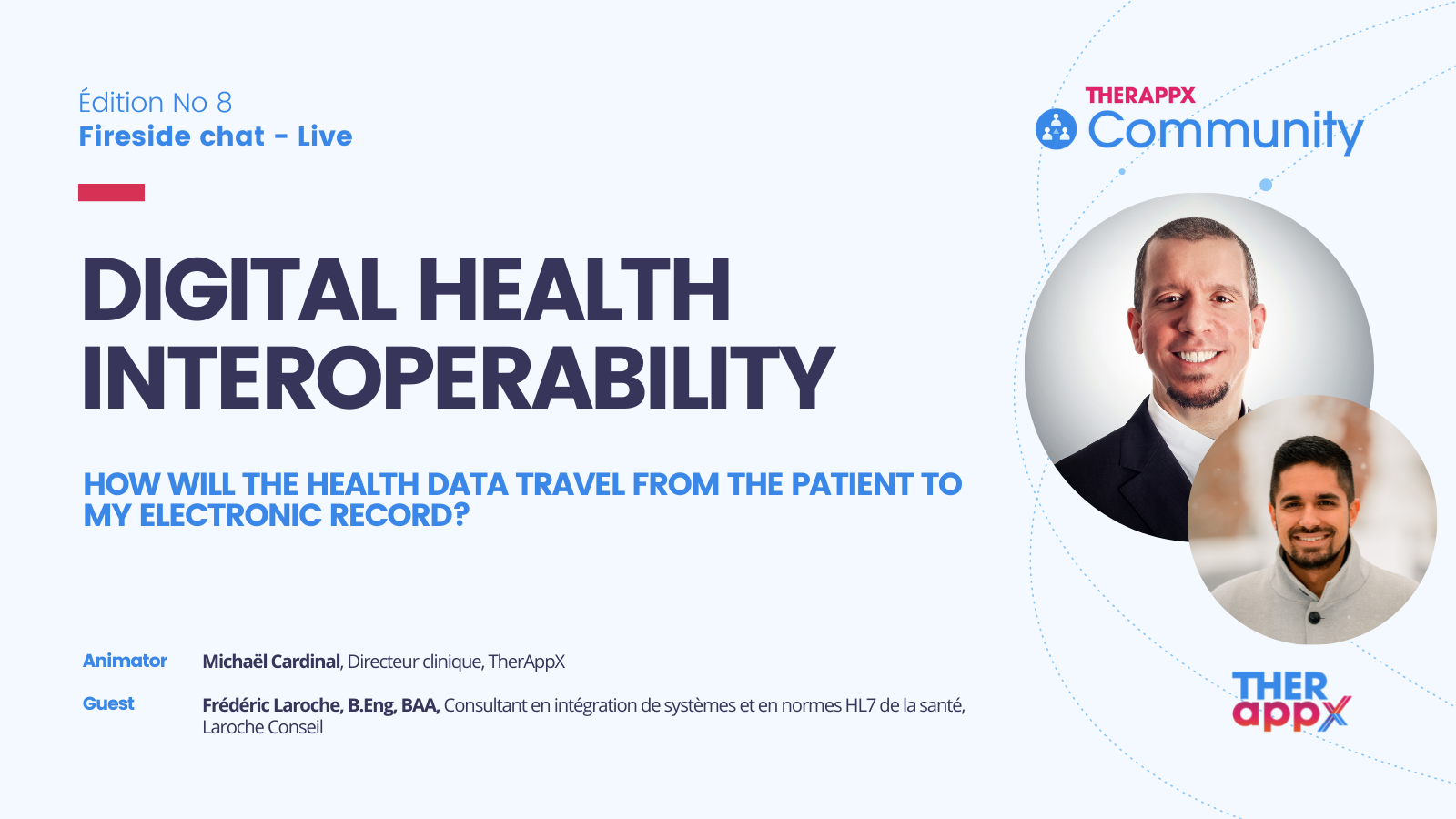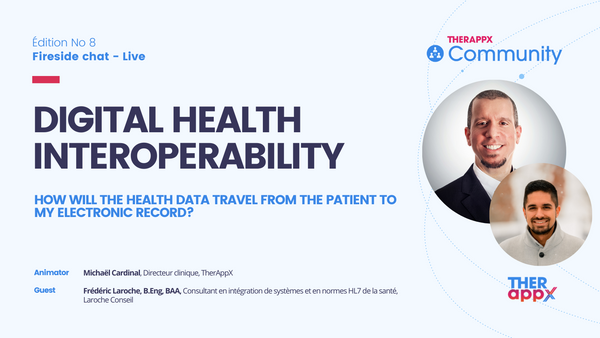 Last night a very interesting Fireside Chat about digital health interoperability was held. Michaël Cardinal, our clinical director at TherAppX hosted Frédéric Laroche, a consultant in digital health, systems integration, and healthcare interoperability standards.
Since the importance of this subject, we wanted to share key points that were discussed between Michaël and Frédéric.
To view the entire segment of Fireside Chat, click here. Happy listening.
What is interoperability?
Simply put, interoperability is when two or more systems can exchange information that can be understood by all systems unambiguously. Right now, it's as if the different software in our healthcare system all speak different languages. To exchange information between one another, systems need to be able to translate the information into a language they understand. For example, electronic medical records (EMRs) and computer systems in pharmacies do not speak the same language. Interoperability is achieved, in a simplified way, when the two systems are connected using a ''translator'' to allow the data (for example patient health information) to be usable in both systems and for the two systems to interpret the same data.
Real-world applications of interoperability
Even though the healthcare industry has its share of interoperability challenges, there are some real-world applications of interoperability.
For example, some EMRs have access to data stored in the Dossier Santé Québec (DSQ), especially in regard to laboratory results. In addition, Apple is now able to transfer data from third-party apps into the Apple Health app, just as Google Fit. Apple Health data can then be used in other third-party applications. For example, Apple can collect data from an application that acts as a pedometer and then send this data to another application that assesses the health of a user, among other things based on the number of steps taken in a day.
In fact, in TherAppX Core, our digital health tool library, it is possible to filter tools based on connectivity with Apple Health and Google Fit, as shown in Figure 1.
Figure 1. Connectivity filter in the TherAppX Core library

What will be possible in the future with interoperability?
One of the key takeaways from the Fireside Chat is that in 2021 almost anything is technically possible to achieve in terms of interoperability technology. We must therefore sort what we want to accomplish in terms of the perceived benefits of the technologies.
Practice in the United States can give us a good idea of what may soon be possible here in Quebec. Currently, in the US, the large providers of electronic medical records have made it possible for their systems to access application data from third-party developers, such as mobile applications used on patient's phones. Health professionals will be able to have access to patient data in their own Electronic Medical Records.
What will be the impact on patients and health professionals?
This will help patients to be more independent in monitoring their chronic condition. Recommending mobile apps for follow-up is already helping patients prepare for their follow-up appointments with their healthcare professionals. These applications help patients become more engaged in their follow-ups. Connectivity between the recommended mobile applications will only make the experience easier for patients and their professionals, allowing data to be sent to computer systems in real-time or with patient consent.
What is missing to achieve interoperability?
According to the panellists, the technology is available, but we must first ensure that these technologies are deployed in a secure manner, in compliance with laws regarding personal health information. If you would like to watch or re-watch the full Fireside Chat segment from September 14, 2021, click right here. Happy listening!