COVID-19 pandemic: Quebec's Ministry of Economy and Innovation supports TherAppX technology project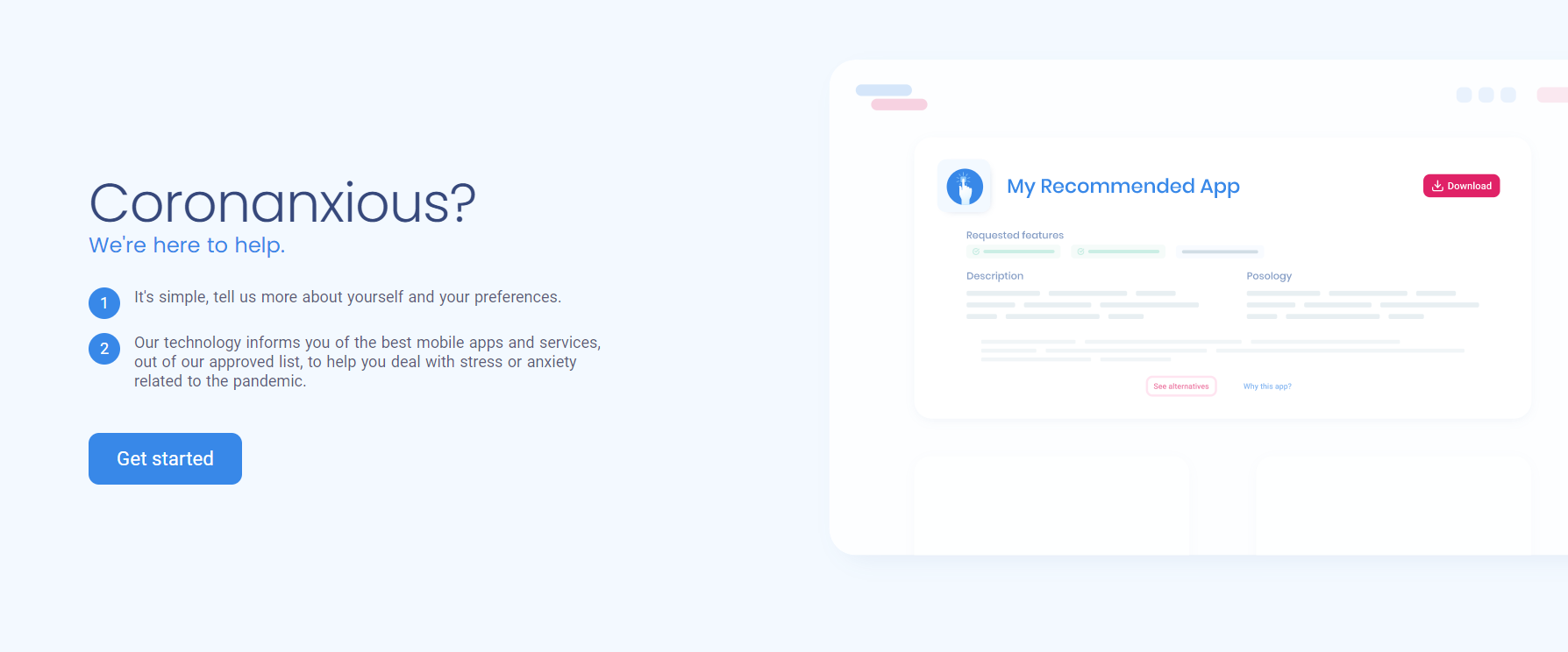 Quebec, December 18, 2020 - In collaboration with the Ministère de l'Économie et de l'Innovation (MEI) and MEDTEQ+, TherAppX is now making its expertise available to the 28 suicide prevention centers (CPS) in Quebec, as well as the Quebec population.
As part of a pilot project initiated in the fall of 2020, mental health workers of the 28 suicide prevention centers (CPS) in Quebec will have access to the TherAppX Core platform, a tool developed by TherAppX, a company from Granby founded in 2018. TherAppX offers its platform free of charge to the CPS, in exchange for comments from the mental health workers using its tools during a pilot project led Université de Sherbrooke. This pilot is part of the evolution of the offering of TherAppX; a company specialized in the assessment of Digital Health Tools (DHTs), which intends to make its "dictionary" of DHTs available in Canada accessible to all clinicians during the year 2021.
Already involved in a research project with Laval University and University of Waterloo that intends to analyze the efficacy of TherAppX's recommendation systems when used by pharmacists, they are now joining the team of Prof. Julie Lane, director of the Centre RBC d'expertise universitaire en santé mentale, affiliated with the University of Sherbrooke for the evaluation of this pilot project.
TherAppX Core
Approximately 32% of Canadians were already using a DHT in 2018. It is expected that this proportion has increased significantly since last March. In Canada, there are currently more than 170,000 DHTs offered to patients and their care teams. TherAppX offers a Digital solution to identify the best tools for each patient and clinical situation.
With TherAppX Core, the mental health workers of a CPS will access the details of the analysis carried out by a multidisciplinary team of clinicians, including psychologists. Therefore, they have information on each tool at their disposal and may recommend tools that best suit their patient's situation by text message if necessary.
The mental health workers will access continuously updated information on the DHTs. More precisely, they have access to the user-friendliness, safety, clinical evidence, coverage by insurers, therapeutic value, and relevance of each of the tools featured in TherAppX Core.
When receiving the provider's recommended tool by text message, the patients also accesses information on mental health resources available in their community (Quebec only).
Quotes
NB: These quotes were freely translated from French.
"Digital Health Tools illustrate the immense potential that can be drawn from new technologies, especially to improve patients' quality of life. The TherAppX Core solution has made it possible to forge several promising research partnerships. I am convinced that this innovative platform will have a positive impact on the Quebec ecosystem of research and innovation, in addition to having a favourable impact on the offer of health services in Quebec."

-Pierre Fitzgibbon, Minister of Economy and Innovation
"The pandemic has unfortunately accentuated psychological distress in Quebec, but it was also an opportunity to use our creativity and our know-how to develop innovative solutions. I am proud that TherAppX is partnering with the RBC Center for University Expertise in Mental Health, affiliated with the University of Sherbrooke, to evaluate its pilot project. This new partnership will further promote the expertise of researchers in the Eastern Townships."

-François Bonnardel, Minister of Transport and Minister responsible for the Estrie region
"Although DHTs have the potential to promote patient self-care and bring value to the healthcare and social services system, they're numerous, they vary significantly in terms of quality, and the lack of reliable data about them significantly decrease their adoption. TherAppX overcomes these challenges. Using a standardized, research-based assessment process inspired by recommendations from major regulatory bodies, their team of programmers and clinicians continually identify and assess health applications and digital therapies. This project and its evaluation will make it easier for clinicians to incorporate DHTs into their practice and in their interactions with patients."

-Pr. Julie Lane, Director of the RBC Center of Excellence for Mental Health
"A survey conducted by the Regroupement des centers de prevention du suicide (CPS), published in Le Devoir on October 21, 2020, indicates a 20% increase in the flow of calls in two-thirds of the centers. Beyond the considerable impact of the COVID-19 pandemic on the health of Canadians, social isolation, sedentary lifestyle, fear of the unknown and uncertainty, as well as other dimensions of the current crisis, are putting enormous pressure on individuals already coping with mental health challenges. Thanks to our work and our platform's launch, we hope to have a favourable impact on the Quebec population's mental health while allowing those working in the CPS to be on the lookout for all the tools at their disposal."

-Pier-Luc de Chantal, psychologist by training, Research and Mental Health Lead at TherAppX
"MEDTEQ+ has always supported the development of innovative solutions, in particular through new technologies and digital tools. The current crisis has demonstrated the importance of the special attention that MEDTEQ + has been paying for years to the mental health of Quebec and Canada's populations, especially in this period of isolation. The platform offered by TherAppX will make it possible to meet these growing needs by providing a solution that facilitates CPS workers' work. "

-Diane Côté, CEO of MEDTEQ+
About
Le Centre RBC d'expertise universitaire en santé mentale
The Centre's mission is to promote interdisciplinary and intersectoral collaboration in mental health. In this sense, it wishes to pool the community's expertise to respond as optimally as possible to the needs of children, adolescents, and young adults living with or at risk of developing mental health problems.

TherAppX

TherAppX is the Canadian leader in the evaluation of Digital Health Tools (DHTs) and Digital therapeutics. Using a standardized assessment process, a team of healthcare professionals and IT specialists continually assess healthcare applications and digital therapies to provide more than 58 reliable data on DHTs. This data displayed in TherAppX Core, a platform in the form of an application library, allows users to filter the DHT market. Core data feeds referral systems to help patients and their care teams find the right app at the right time.

MEDTEQ+
MEDTEQ+'s mission is to accelerate innovative technological solutions to improve patients' health and quality of life. MEDTEQ+ supports the validation of these technologies, their integration into the healthcare services, and their local and international influence by bringing together industrial and institutional partners' complementary skills and those of health care providers. MEDTEQ+ relies on financial support from the Government of Quebec, the Government of Canada (via the Centres of Excellence for Commercialization and Research (CECR)), the private sector and complementary partners to promote research-industry partnerships.