Case study: Statistics as a contraception method
As 83% of Americans who track their menstrual cycle do so through digital means, it is becoming more and more relevant to counsel your patients on the use of these types of tools.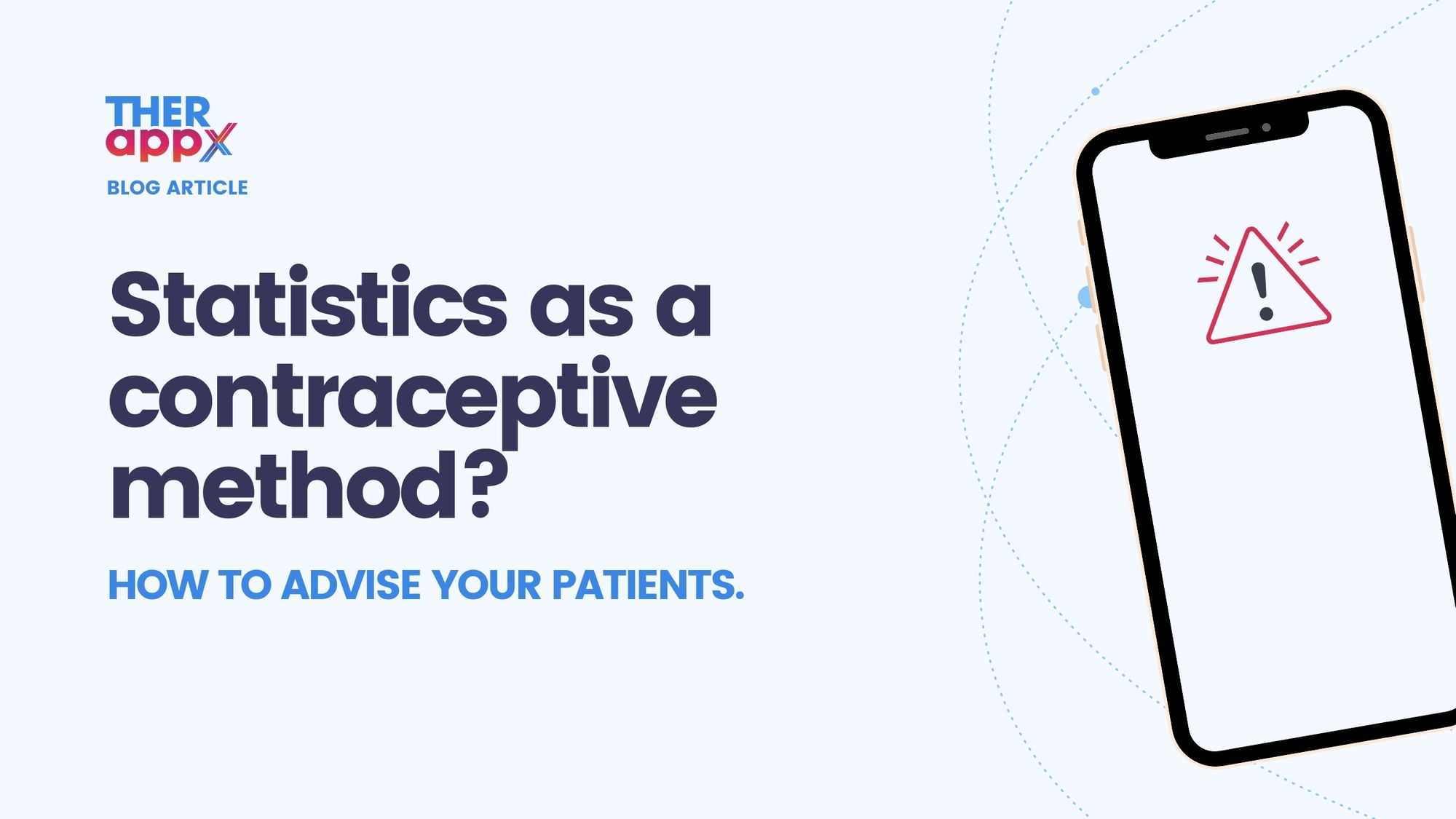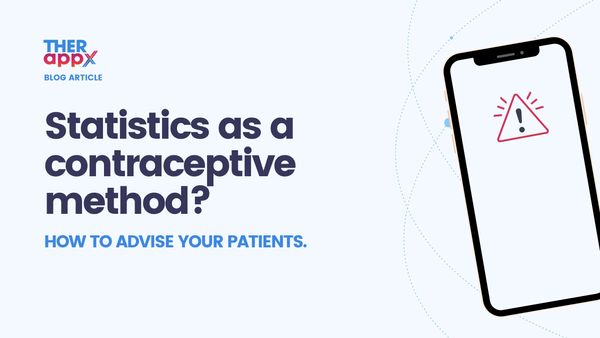 Clue Period & Cycle Tracker's recent FDA approval as a birth control app has sparked an interesting debate in the TherAppX Community, which led to an update of our rating in TherAppX Core. We discussed the efficacy and relevance of this method. In this article, we will discuss the main highlights of the approval to help you better advise your patients on the use of such tools.
FDA's approval of apps as contraception
Clue is the second Digital Health Tool approved by the FDA as a birth control app, after Natural Cycles in 2018. Natural Cycles uses a connected thermometer and algorithm to determine the period at risk for conception based on the daily variations in the user's basal temperature. The algorithm can predict "at-risk days" after three months.
Instead, Clue Period & Cycle Tracker uses a statistical method to establish pregnancy risk based on past user results and fertility risks according to the calendar method. The user inputs the first day of their period. Then, the tool presents a qualitative risk of pregnancy (high risk vs low risk) throughout the cycle. The "high risk" period is 16 days for the first cycle and may decrease to 11 days in the subsequent cycles, based on the cycles' length and variability.
According to Clue's prescriber information and FDA's review, the tool is indicated for women aged 18 to 45 who want to monitor their menstrual cycle and prevent pregnancy.
What's Clue's evidence leading to its FDA approval?
The data from the prospective clinical trial submitted to the FDA and conducted in 2019 by researchers at the Institute for Reproductive Health at Georgetown University are as follows :
A cohort of 718 women;
92% effective in preventing pregnancy with typical use;
97% efficiency with perfect use;
Of this data was derived a Pearl Index of 5.2 (5.2 women will have an unwanted pregnancy out of 100 women during one year of use due to all possible reasons).
The long high-risk period presented to the user may partially explain the reported efficacy. The high-risk period is a minimum of eleven days in Clue. For comparison purposes, Natural Cycles users are asked to avoid intercourse or use an alternative contraceptive method for five days per cycle. Therefore, abstinence or condom use is required several days per cycle to ensure the method's effectiveness.
The study limits include its length (average follow-up of 13 cycles) and the lack of a comparison arm.
In what clinical cases may Clue be used properly?
The app's use seems appropriate with patients who don't want hormonal contraception (or can't tolerate hormonal contraception) and who are currently practicing interrupted coitus, as the tool's use is a more effective method than the latter.
Since not all women have perfectly cyclical periods, the tool is not suitable for all. It is indicated for women with cycles of 20 to 40 days and a variation of fewer than nine days between two cycles. Users must also be aged between 18 and 45 years old. If the user does not meet these criteria, the app will detect it and recommend using another contraception method and consulting a healthcare provider. Women may still use the tool for fertility tracking means or, at the opposite, to plan pregnancy.
Finally, women who recently used hormonal contraception should complete at least four periods before relying on the tool for contraceptive means.
You will find a digest of this information in the TherAppX Core library, as well as the comparison of Clue with the 12 other digital health tools considered relevant for your patients for fertility monitoring. They were carefully selected among the few hundred tools available on the App Stores for this purpose. Also, you'll find all the other information necessary for proper advice to your patients on the use of Digital Health Tools, in particular evidence, clinical uses, and transparency regarding data rights and security: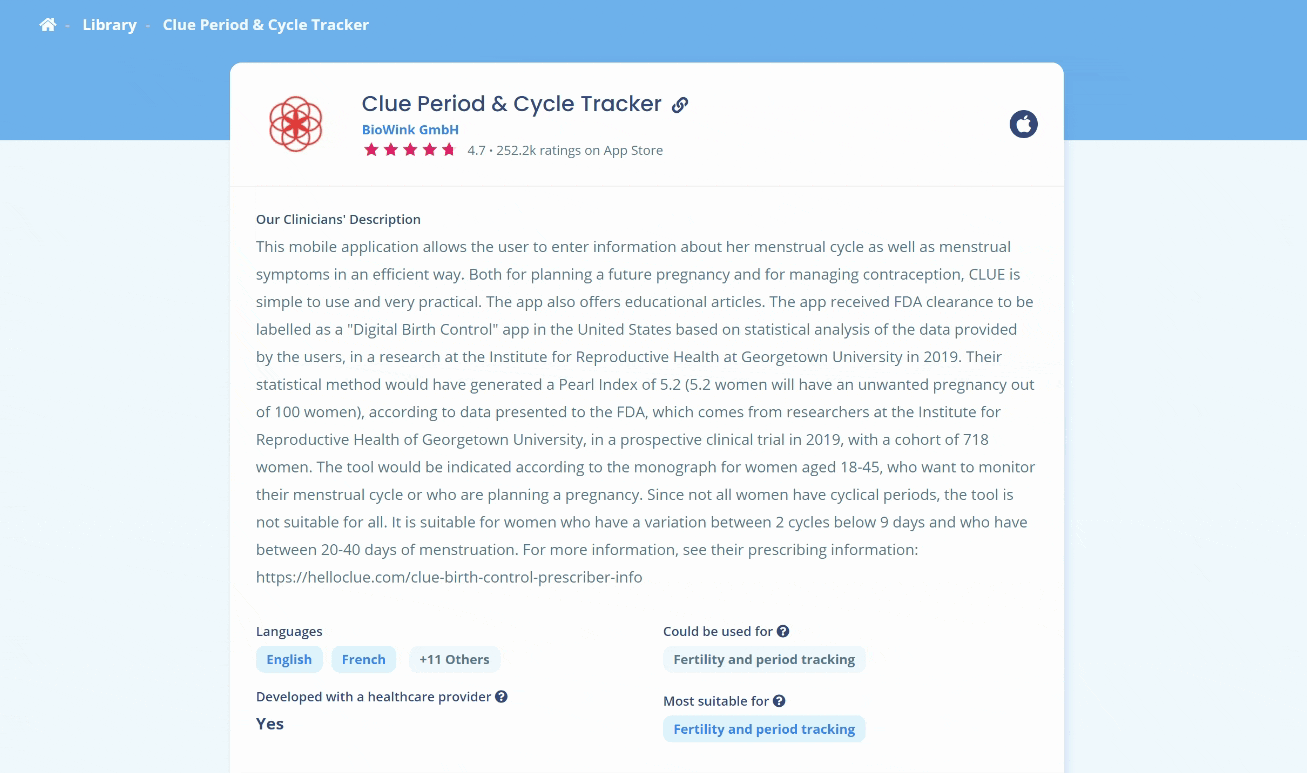 You'll also find a full debate on Clue in the TherAppX Community. This forum allows us to enhance our review process and inform you more quickly about Digital Health Tools. To participate in such discussions and be at the center of news concerning the Digital Health Tools world, join the TherAppX Community today!